Rules for a Strategy-Tactical War Game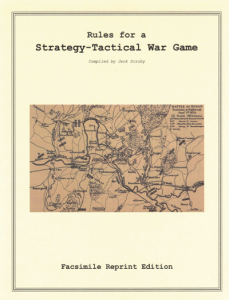 Sixteen illustrations help explain the rules for a new type of war game that for the first time will give the Table Top General a new "depth" to his miniature battles.
Most strategy – board war games do away with lead soldiers, and use pieces of cardboard or symbols to represent the troops. At the same time, most of these games are strategic in concept. The Strategy-Tactical War Game, on the other hand, is designed so that you use model soldiers, and does not eliminate the interesting tactical aspects of the game. It combines both strategy and tactics, and the use of lead soldiers. Not only this, but the war gamer can play the Strategy-Tactical Game right on his war game table, and since no "board" is used, can change the "terrain" of his battles as he desires.
Facsimile Reprint Edition available Now: $10 shipped to US Address $14 shipped outside the US.