Time for another peek at what folks on the web have to say about Scruby Miniatures. This time we reach back to 1 March 2013 and point you to a post on the 1/72 Multiverse Blog.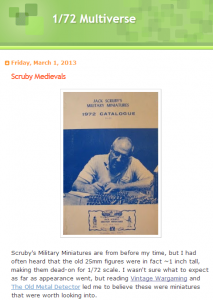 A few highlights from the post:
Scruby's Military Miniatures are from before my time, but I had often heard that the old 25mm figures were in fact ~1 inch tall, making them dead-on for 1/72 scale.

… I noticed was that HistoriFigs really takes the time to finish their miniatures. All of the bases were filed down …

… I think that they possess a simple utilitarian charm that is often lost in modern sculpts that are more suitable for a display case than a gaming table.
I'll leave it to you to visit the 1/72 Multiverse to read the full posting. There you will find some additional commentary on the figures along with some pictures.