A while back I mentioned a new 6mm science fiction themed project; today we present the fist picture of the first New miniatures resulting from this project…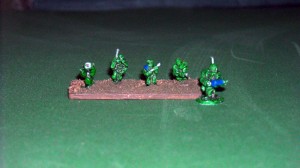 More or less generic figures. Meaning not targeting any specific theme or existing line. For starters we have five (5) basic poses. In the, not so good, picture above we can see all five poses. On the far left is we have kneeling with launcher and on the far right we have our Heavy Infantryman.
You will note that these have a very basic paint job – I can't see well enough to give 'em much more detail, but I think there is enough there to get an idea of what can be done with these guys.
They are ready for a production mold. Once older these will be added to the website along with somewhat better descriptions. We are looking to add another group of five (5a) poses for an opposing army, but of course in the meantime the same figures can be used fro both sides simply by varying the paint scheme. I'm currently working on a small batch of armored vehicles for go with these. First up will be a Heavy Tank and a Ground Effects or Hover Vehicle of some sort.
More new figures later int he week…