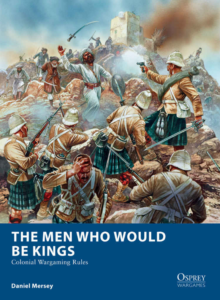 Always a sucker for new Colonial rules…
I recently picked up (OK, downloaded the Kindle version)  the rules book:
The Men Who Would Be Kings (Amazon Link)  TMWWBK
UPDATED: Need an army to go with TMWWBK?
Checkout Our new Skirmish Pack offering. See HistoriFigs website for more information.
While I don't think it will replace my long time favorite, The Sword and The Flame it does offer some good guidelines for skirmish games. I have yet to take 'em for a spin, but for sure I'll be getting my money's worth out of this purchase.
And speaking of The Sword and The Flame, Sergents 3 is now offering a PDF version of the the 20th Anniversary edition.