In keeping up with the 'hobby news' aspect of Table Top Talk we bring you a short news item covering a new release from my (current) favorite board game publisher…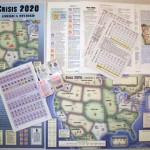 New from Victory Point Games Crisis 2020: America Divided. This is an updated version of Joe Miranda's Crisis 2000 game originally published in the old Game Fix magazine. Today's edition is a semi-professional desktop published game of low-to-moderate complexity which explores an America divided between Government, Rebels, and Interventionists. The game includes full-color components, 120 mounted die-cut 1/2″ square counters, 80 Crisis cards, plus player aids, various scenarios, and designers notes.
I have yet to pick up a copy of this one, but it is is on my list, as soon as I can find a few local players to give it a whirl.
Price: $24.95