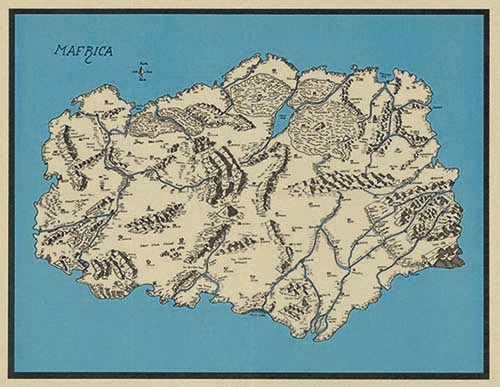 Mafrica, a mythical map – in 'birds eye' perspective – of the continent 'Mafrica' – a place where native tribes lurk to stop your colonial expansion. Perfect for war gaming in the African Colonial period of 1880.
A number of you have written in to requesting Mafrica maps. As such it is time for another (the 4th) print run. If you are wanting a Mafrica map, please let us know (even if you have requested a copy in the not too distant past), we want to be sure to print enough copies (but not too many). We expect to place our print order by the end of next week (9 December).
The 18" x 24" maps will be printed on coated (not glossy) poster stock and will be priced at $17.00 each (plus postage) and are shipped rolled in a sturdy mailing tube. Shipping to addresses in the United States will be $3.00 – International shipping is $8.00 (for international customers, we can ship the map folded rather than rolled, shipping for folded maps is $4.00).

Should you wish to commit to a purchase in advance of our printing we can provide you with a special discounted price of $15.00 each (plus postage). Deadline for this discount will expire on December 8th 2011
After our long silence, we have plenty of news and views to share, so be sure to check back for the latest from HistoriFigs.